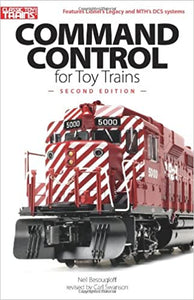 Used, like new.
You are looking at a book that is no longer in publication. This one is a fantastic resource--it shows you lots of great information for learning about all of your command control options in O gauge: MTH DCS, Legacy, and Trainmaster Command Control (TMCC).
This second edition, which updates information on current command control products, is by Classic Toy Trains editor, Carl Swanson. The author of the first edition of Command Control for Toy Trains was Neil Besougloff, who was editor of CTT at the time the book was written.

Includes sections on:
Command Control History
Command Control Basics
Finding the right system for you
Lionel Legacy and TMCC  systems
MTH Digital Systems
More
102 pages
CONDITION: Cover has a crease/bend in it from sitting on the shelf behind other books. It is New Old Stock, but listed as like new due to the cover crease.
 No writing or any other signs of use.


Be sure to check out our other auctions and store items for more great toys and trains.