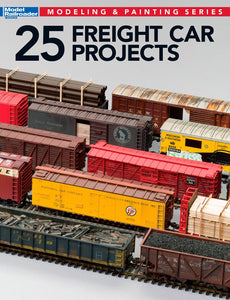 You are looking at a book released in 2016 edited by Randy Rehberg of Model Railroader.

This book contains all-new materials from a star-studded roster of Model Railroader authors. (Tony Koester, Mont Switzer, Cody Grivno, Jeff Willson, James McNab, Keith Kohlmann) In 25 Freight Car Projects, modelers will find a wide variety of modeling techniques and ideas. With a focus on HO and N scales, this book provides step-by-step photos and instructions to show readers how to model a range of freight cars.
104 pages
Some features:

Patching freight cars with paint pens

Making a realistic dewck for a flatcar

Converting a bulkhead flatcar to gondola

Modeloing ore cars in gravel service

Undecorating a "cheese" boxcar

Weathering a war-emergency hopper

Building a 3-D printed gondola

So much more

CONDITION: NEW old stock.