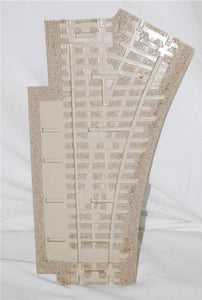 Note: These are getting very tough to find these days.

Roadbed only. This is to put the track into.

You are looking at an Atlas O 0-45 roadbed for Atlas O three rail. This one fits the 0-45 right hand switch. 

Great to have around for the layout building or perhaps you are a dealer and cannot get it right now!
As you know, these pieces shed the small gravel, so be careful when you open each piece. You are buying the roadbed only--track is not included.
Atlas O's new 3-Rail Roadbed is made from ground cork and plastic to simulate the ballast of a real railroad for a true, three-dimensional appearance. Set-up is done in 3 Easy Steps:
1 - Prepare the surface (table, carpet or floor).
2 - Snap the Atlas O track section in the roadbed.
3 - Connect your roadbed sections together (with track installed).
It's that simple. The roadbed also helps to reduce noise and vibration while the trains are running. NOTE: Track not included.
This switch has separately-applied ballast for a realistic appearance-It's not molded on! This is designed to work with the Atlas O 3-Rail 21st Century Track System. It measures 12 inches long.

NEW OLD STOCK