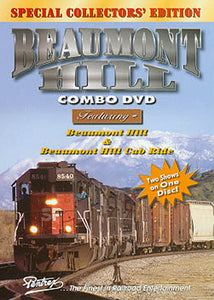 You are looking at a great DVD.
From the Producer:
Beaumont Hill's San Gorgonio Pass-the mountain gateway to the Sunset Route-was a tough proving ground for Southern Pacific's locomotives. The demanding grade and extreme weather conditions of this Southern California railroading landmark put SP's newest locomotives and leased power from other roads to the test. Video Rails spent three years filming great action over Beaumont Hill and the result was two exciting shows that have now been combined on one DVD for your viewing pleasure.

Beaumont Hill
Experience Southern Pacific's high-speed crossing of San Gorgonio Pass, a daunting grade that demanded mid-train and rear-train helpers for the push to the top. SP employed a vast array of motive power on this route and you'll see leased units from CSX, Conrail, and many other roads. Ride in the cab of an SD40T-2 rebuild from Colton to Indio aboard one of SP's hottest trains. See the last runs of the Sugar Beet trains. From flash floods to 120 degree heat, here is mainline railroading at its best! (1 hour 30 minutes)

Beaumont Hill Cab Ride
Climb aboard Southern Pacific engine 8305, an SD40T-2, on Southern Pacific's hottest train, the LAMFF. Leaving the West Colton yard, you'll get the crew's vantage point of beautiful San Gorgonio Pass as your train climbs over Beaumont Hill at track speed! (1 hour)

DVD Special Feature:

Chapter Menu provides instant access to program segments.

2 Hours 30 Minutes
In Color with Stereo Sound and Narration
Full-screen (4x3) Format
No region code; can be played in any NTSC DVD player worldwide
Packaged in Sturdy Vinyl Clamshell Case

CONDITION: Opened. Looks like new. Tested.