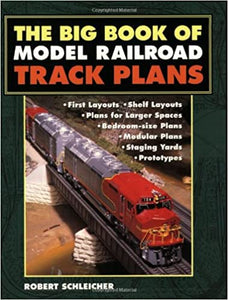 You are looking at a book that is no longer in publication; it came out in 2003. This one is a fantastic resource for ALL model railroading. while it has lots of plans for Ho scale, many of the plans here are listed as good for ANY SCALE. The book features both permanent and MODULAR layouts.

For the model train hobbyist, this incredibly detailed book features 81 model track plan options. Each project description includes technical advice and prototype photos that will inspire any model railroad enthusiast. Projects feature likely obstacles that might be encountered during construction and helpful tips for getting it right the first time. Line art diagrams, layout routes, dimensions, and even photographs of the finished layout are included.

The book is organized into six sections:

The Best Plans for Your First Layout ,

Shelf Style Layouts ,

Bedroom-Size Track Plans ,

Track Plans for Larger Spaces ,

Staging Yards and Holdover Tracks ,

Modular Model Railroad Plans

You'll find:
• 81 different plans provide options for different scenarios

Includes prototype photos

Bedroom-size track plans

Indicates the time, talent, tools, materials, and cash necessary to complete the project

271 pages

CONDITION: New old stock.You will be owner number one.