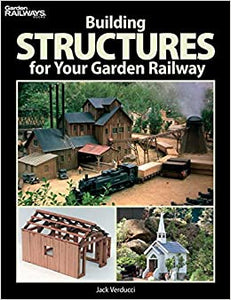 You are looking at a book that is no longer in publication. This one is a fantastic resource. This is one of the staples of buiilding your garden railway.  111 pages

NOT ONE OF THE MORE COMMON BOOKS AROUND THESE DAYS
A UNIQUE topic with information that transcends scale!
Author: Jack Verducci

Structures for garden railways are just like structures for other model railroads except they must survive outdoor elements. Building Structures for Your Garden Railway is the first comprehensive guide to creating structures that work in an outdoor setting. This book covers researching, planning and drawing, selecting tools and materials, and construction. It covers everything from bases to roofs including walls, windows, doors, lighting, and painting. Using the instruction of noted expert Jack Verducci, readers will be well on their way to creating the detailed garden railway they ve imagined.

CONDITION: New old stock.