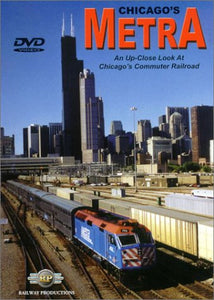 FREE US SHIPPING

You are bidding on a fantastic DVD featuring the famous METRA in Chicago.

Chicago''s Metra commuter rail system is one of the success stories of modern railroading. Carrying upwards of 300,000 passengers a day, it is a marvel of dedication and precision. In this program, you'll get an up-close look at Metra, including visiting some areas of the system normally off limits to the public.

Some of the things that you''ll see include:

*See all of Chicago's downtown stations
*Take a look at Metra's 12 routes
*Go inside the famous "Zephyr Pit" repair center
*Learn what it takes to overhaul passenger cars
*Visit historic Tower A-2 and talk to the leverman
*See how each Metra route has its own character.
All of this and more in this action-packed 60 minute program that you''ll want to watch again and again! Color, narration. DVD includes chapter menus.

1 hours ; 2002

Beautiful Color with Hi-Fi Sound and Narration
All regions; can be played in NTSC DVD players worldwide
Packaged in Sturdy Vinyl Clamshell Case