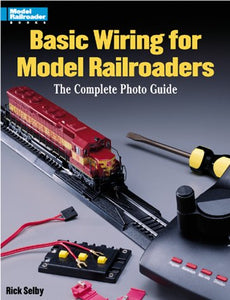 You are looking at a book that is no longer in publication. This one is a fantastic resource.  It is currently out of print. it is different because it is the Complete Photo Guide.

Model Railroader Book from Kalmbach Publishing Company.
Author: Rick Selby

This is a Basic Wiring for Model Railroaders Complete Photo Guide Book from Kalmbach Books. Even if you don't know a watt from an ampere, you'll find you can still wire a simple or advanced model railroad with the help of this book. Using clear, photographic step-by-step instructions and nontechnical language, the author walks you through many of the common wiring projects you'll encounter as you build your own railroad.

FEATURES:

Glossy softcover 80 page book.

Full of black and white photos.

Inside the book you'll learn how to:

Select the appropriate tools and supplies.

Wire a basic train set.

Wire turnouts and other special track sections.

Install various DCC systems and decoders.

Keep wires and connections neat and orderly.

80 page Basic Wiring for Model Railroaders Book

Out of print

INCLUDES: 80 Pages

SPECS: Size: 8.25" x 10.75"

CONDITION: NEW old stock.