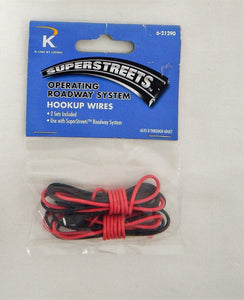 Here is what you need to get power to your K-Line/Lionel SuperStreets layout. This is a package of hook up wires.  We have more cool detailed Superstreet items in our listings right now, including a neat railroad crossing.

Superstreets are a neat way to integrate your O gauge roadway and your O gauge trains or even your Christmas Village--let them cross with the realistic looking grade crossing.

This lot includes:

Use with Railroadster and other O gauge vehicles
A part of the K-Line Superstreets Operating Roadway System
Gauge: Traditional O Gauge
Looks Great in your town


Realistic street look

Countersunk screw hole hidden by a detailed manhole cover

Functionally O gauge three-rail track
CONDITION: NEW.
SuperStreets roadway is functionally O gauge three-rail track built very unobtrusively into a realistic street. Because at heart SuperStreets is O-gauge track, you control the traffic on with your existing transformer. Visually the roadway pieces look very much like the concrete and asphalt streets in cities and town of the last seventy-five years. There is a countersunk screw hole in each piece, hidden by a detailed manhole cover. RailRoadster vehicles are designed especially for SuperStreets. However, any O gauge engine or motorized unit like vans, speeders, inspection vehicles, and trolleys run on SuperStreets.