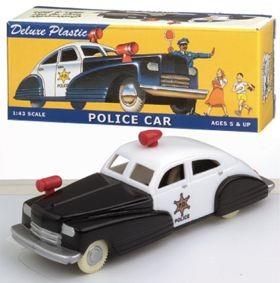 You are looking at a great new plastic car that is made from the old school molds, so you have the best of both worlds.

This item is Dimestore Dreams
Catalog number 20030

Police Car

Vintage streamline look

New in the box (we were original retailers for this item!)




With original Dimestore Dreams fould out catalog




We only have this ONE left

Discontinued in 2002
These are great for
Plastic Playsets vintage and new

Super with your Gas Station or Service Station Diorama

As a load on a Lionel, Marx, MTH train flat car



The car is roughly 5 inches long.
The Dimestore Dreams line of plastic toy vehicles was created by Bill Hanlon, author of 'Plastic Toys - Dimestore Dreams of the 40s & 50s'. The vehicles are remakes of those sold in American dimestores in the years just after World War 2 in classic postwar America.  At the time, the then new plastics industry allowed for production of inexpensive yet accurate models.  Binary Arts, a games and puzzles company, team