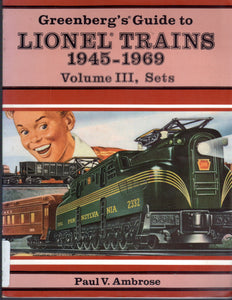 This is the book that identifies all of the Lionel sets that appeared in the Lionel catalogs. It is organized by year and then set number. Contains detailed descriptions of set contents as well as many pictures. With a very useful index.
Paperback: 200 pages
Publisher: Greenberg Pub; 1st Edition edition (December 1, 1990)
Language: English
ISBN-10: 0897781732
ISBN-13: 978-0897781732
Product Dimensions: 8.8 x 0.5 x 11 inches
CONDITION: Very clean, somewhere between excellent and like new. No writing or tears. Slight curve from sitting on shelf. A few very light creases on the front cover.