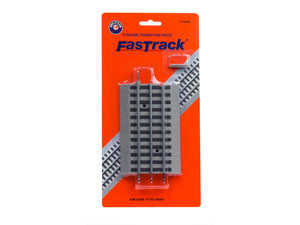 You are looking at a Lionel transition section. This five inch seciton is just what you need to get from your Fastrack to your tubular. Maybe you have some of each on the layout--this is how you get between them! Some folks like Fastrack switches and tubular track. Note that these pins are for O gauge.
Brand new on the card.
 
FEATURES

Joins Fastrack on one end and traditional Tubular O track on the other
Half Straight Track section, 5"
Gauge: O Gauge
Brand: Lionel
Product Width: 5.50"
Dimensions: Length of each section: 5"

Offering innovation, variety, ease-of-use, and a fantastic prototypical look, the FasTrack track system brings your Lionel layout to life like never before. Its flawless performance and endless flexibility make it appealing to first-timers and seasoned pros alike.

Features include:

•Offers greater flexibility in designing your layout
•Easy, snap-together locking mechanism for sure connections
•Patented center half-pin allows for track orientation in either direction without the need for moving pins from one end to the next