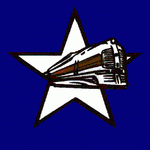 Here's another listing by   

Lone Star Trains and Collectibles,
Your Classic Era Train Headquarters! 

You are looking at a lot of TWELVE 6-12043 048 sections of CURVED Lionel Fast Track. The 12 pieces give you a FULL FOUR FOOT circle--it takes six per side.

We make it SIMPLE for you.
These are new, unused. It takes all 12 of these to make a 48" circle in the 048. They have a wider curve than the 036 sections that come with the starter sets.
Offering innovation, variety, ease-of-use, and a fantastic prototypical look, the FasTrack track system brings your Lionel layout to life like never before. Its flawless performance and endless flexibility make it appealing to first-timers and seasoned pros alike.

Features include:

•12 pieces make a complete circle
•30-degree sections (x 12)
•Offers greater flexibility in designing your layout
•Easy, snap-together locking mechanism for sure connections
•Patented center half-pin allows for track orientation in either direction without the need for moving pins from one end to the next

CONDITION: Used. C7 Excellent shape. Clean and ready for duty!

Check out our other store items and auctions for more great train stuff including much more Lionel.