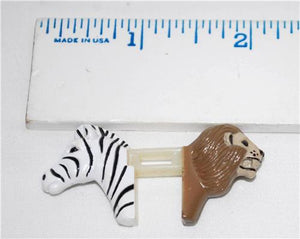 You are looking at a hard to find Lionel part that you do not often find for separate sale.  THIS LISTING IS FOR a single unit of a zebra and lion head ONLY.

This may be just the part you need to complete that cool circus car.
This is the part that goes in the stock car that Lionel iriginally released with horseheads bobbing out the sides. This version has different animal heads out of each chute. Maybe you want to replace the heads in your horse car for something different...or maybe you need to fix that 6-16638. 
Features:
610-6638-014
Lion and Zera
For bobbing stock car