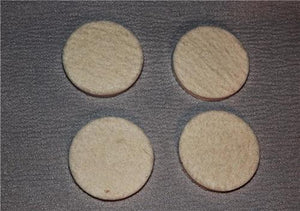 FOUR REPLACEMENT PADS for the motorized track cleaning car made by the Many New Products company.   

The MNP Track Cleaner Car is a specially designed car that has motorized pads that clean your track as the car goes around the rails. 

These are the adhesive pads you can use on the bottom to replace the dirty ones you have on the O gauge version of the MNP track cleaning car. They may fit others, but I know they fit the O gauge car.


Cleaning pads are actually removable and replaceable peel and stick (EASY) onto the pressure sensitive discs