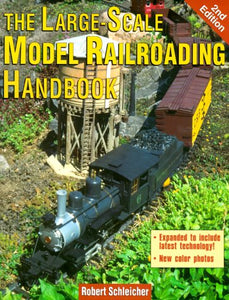 You are looking at a book that is no longer in publication. This one is a fantastic resource. This is one of the staples of building your garden railway.  222 pages, published 2000

The completely updated edition of this best seller is loaded with tips to help train hobbyists make their G-scale railroading layouts a reality. Gardeners seeking to enhance their garden beds and collectors of authentic scale cars will find that everything from track plans to right-of-ways to roadbeds is covered. New to this edition is information on simplified wiring systems for two or more trains using DCC, new locomotives, cars, and power supplies. Also included are two new chapters covering modern locomotives and modern freight cars. Both novice and expert railroaders will benefit from this book.

The best resource for G-scale train enthusiasts on the market.

Contains more than 300 photographs/illustrations and expanded chapters including contemporary systems.

All the information You will need to get started in garden railroading.
Written in a friendly, accessible style that appeals to both beginner and experienced hobbyists.

CONDITION: New old stock.