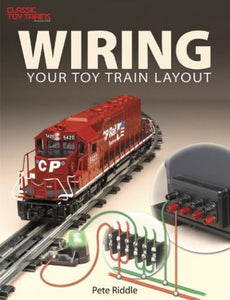 You are looking at a book that is no longer in publication. This one is a fantastic resource.

This volume shows you how to conventionally wire your layout and also how to modify wiring as the empire expands. 

Softcover book gives the information you need to start wiring your  toy train layout today.

Even if you can't tell a track lockon from the back of a Z-4000 transformer, you can still wire a simple or sophisticated toy train layout with the help of this book. Using non-technical language and clear, illustrated examples, this book walks you through many of the common wiring situations you'll encounter as you build your own operating layout. 

You'll find:

Electrical principles explained in terms you can easily understand.

Steps to wiring a simple, yet expandable toy train layout. 

Proven instructions for wiring a control panel, track switches, lights, accessories and other automation and train control devices. 

A command control system overview.

Troubleshooting tips.

An extensive glossary.

With this book, the mysteries of wiring will no longer keep you from enjoying that operating toy train layout you've always wanted.

Pages: 95

CONDITION: NEW OLD STOCK but has a small corner crease.
Be sure to check out our other auctions and store items for more great toys and trains.